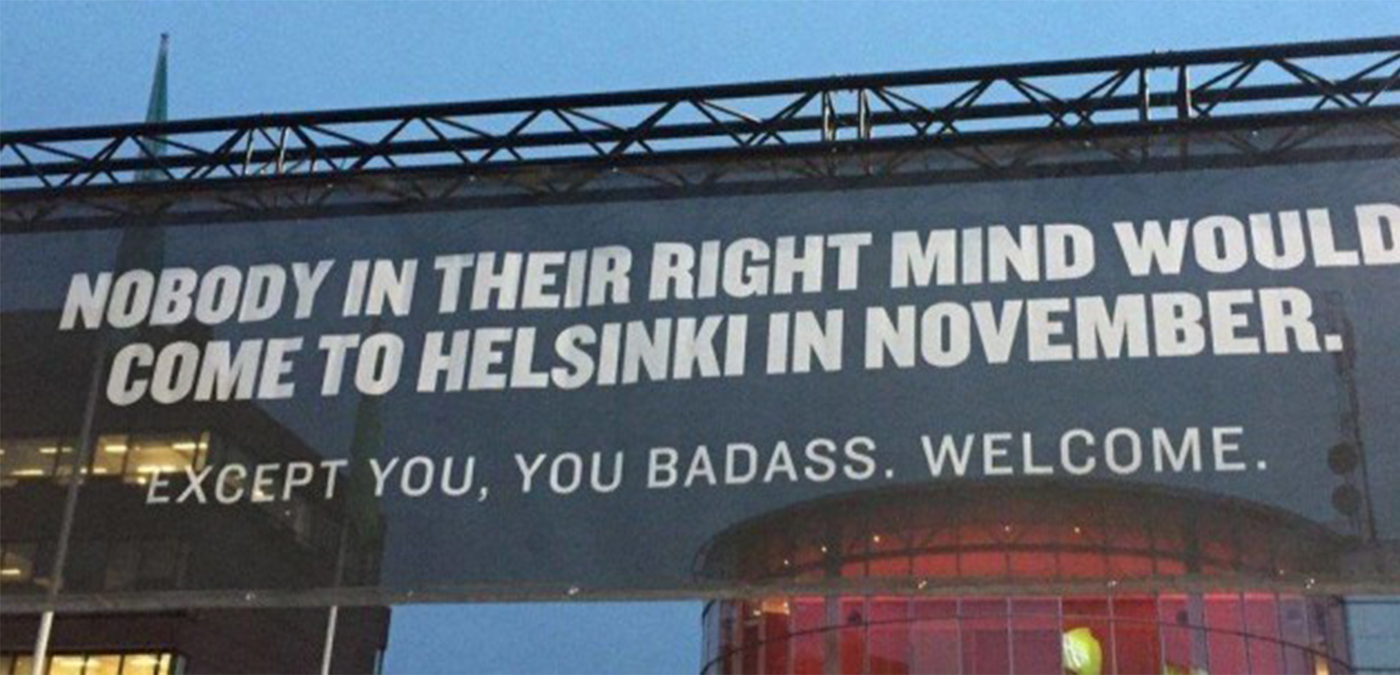 04.05.19
The arriving passengers couldn't miss the sign as they exited Helsinki's airport.
It was late November, a couple of years ago.
Many were there for SLUSH, a tech start-up conference in Finland's capital… just as the days turned shorter and darker (3:27 p.m. sunset!?), and the temperatures were dropping.
A large banner greeted them.  (See above.)
Images of the sign soon went viral.  Some experts called it one of the best travel promotions ever.  Praise poured in for the ingenuity and honesty of the message.
Except you, you badass.  
Welcome.
What made SLUSH's message especially powerful was how it appealed directly to the psyche of the attendees, their sense of belonging, their community.  The message was edgy, aggressive, confident – just like them.
This craving for "belonging" plays out all around us every day – in sports, in education and business, in our faith communities and non-profits, in pretty much anything that fills our lives.
Bell Let's Talk unites millions of Canadians around mental health awareness and openness.  It creates belonging.
And those start-up badasses visiting Helsinki every November?  They belong too.
The best marketers know about our need to belong.  They recognize it… and even appeal to it.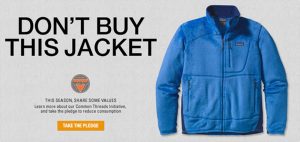 Marketing used to be all about us… and what we sell.
But times have changed.
That approach doesn't work any longer.  If anything, it tunes people out.
It needs to be about them, not us.
In the run-up to Christmas a few years ago, Patagonia (the outdoor clothing and gear company) ran a campaign that explicitly told customers "Don't buy this jacket."   Wait a minute, WHAT?
But it made sense.
Patagonia was appealing to its community.  It was encouraging people to consider the effects of consumerism on the environment, to purchase only what they need, and to re-use or recycle everything else.  Although it might have seemed risky, the message further united Patagonia's tribe – brought it closer together – by engaging in its purpose "to save our home planet."
The message was about belonging.
We can do this with our own communities too, if we're up to it.
We can start by:
Knowing and appreciating what matters to them.  What they care and worry about.  The problems they want to solve.
Showing (and proving) that we hear and understand them.
Appealing to the traits that make them unique.  And then enabling them to feel included with others who share those traits, see the same opportunities and experience similar challenges.  To connect.
This isn't always easy to pull off.
You'd think it is, but it's not.  It requires discipline and intention – and a pronounced mindset –  to focus on them, not us.
But it's worth it.
So, as you craft your marketing message – in any form, any medium – remember that it's not really about you.
It's about them.
And inviting them to belong.
Ask yourself:
Are you enabling people to belong?
Are you focused on them, not you?
~Craig