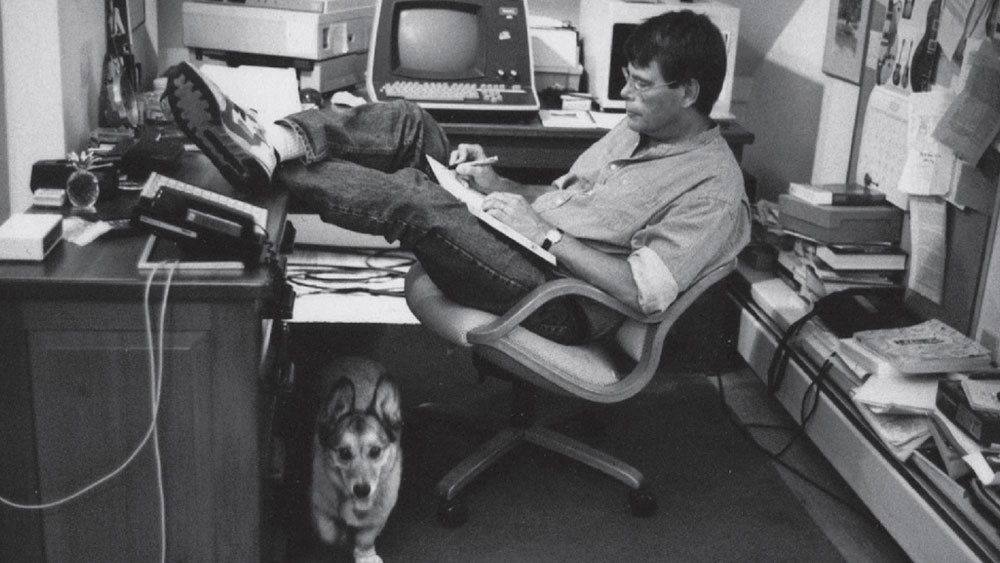 11.10.17
I've never read anything by Stephen King.
That might seem odd considering America's best-selling author has sold more than 350 million books.
Sure, I've watched movies adapted from King's fiction: Misery, The Shawshank Redemption,Stand by Me, The Shining, to name a few. Haven't we all?  But when it comes to the written word, zilch.
Until two weeks ago.
That's when I read (in one sitting) one of King's few pieces of non-fiction: a combination memoir-manual on how to be a better writer, simply titled On Writing: A Memoir of the Craft.  King grabbed me from the first page with his personal story (including overcoming drug and alcohol addiction), plus loads of no-nonsense tips on how to write well, including:
"When you write, tell yourself the story. When you rewrite, take out anything that's not the story."
"Fear is at the root of most bad writing."
"The road to hell is paved with adverbs."
Here's the thing:  I have zero interest in writing fiction or learning how.
Still, I kept reading.
It's a memoir that reads like a labour of love. And that's what drew me in even deeper – King's  craftsmanship on full display.
Two stories brought this home to me:
King recalled how On Writing was interrupted in 1999 by the 

road accident that almost killed him

, and how finishing the draft later that year, recuperating in his wheelchair, was a cathartic path to his recovery. Working on his craft 

actually

 (catch that?) helped him heal.
And then he wrote about the large writing desk he'd placed in the middle of a restored attic in his century home in Maine. For years, this was his office. Over time, King came to see this set-up as way over the top, too pompous. So he reversed course, pushing a smaller desk under an eave in a tiny corner of the attic, where it was "less like a throne" and more like his workshop. Which it was. (See above.) To King, craftsmanship involves the tough sledding, off in the corner, that makes something better.
Don't our customers expect the same craftsmanship from us?
After all, we're not factories.
Few of us mass-produce anything for anyone.
Aren't we each attempting to hone our own craft in our own way? Don't we customize products, services and experiences, doing anything we can to make our customers feel special?
I think so.
And when we do it well, it's craftsmanship.
Like the blog that lands in my in-box every Sunday morning from 

Chris Brogan

. It always feels like Chris is writing only to me.
Like the clarity of the quarterly reports we get from our financial advisor, 

Keith Muchan

– so simple, even our dog could understand them.
Like the dining table we purchased last month from Ontario's 

Mennonite country.
Each of us works away in our own corner, sharpening our edges, making what we offer a bit better as we go.
It might be the latest presentation we're fine-tuning.
Maybe a tweaking of our service process.
A product add-on or technology upgrade.
Or perhaps tighter language to describe how we help our customers.
Anything at all.
Because we're all craftsmen, whether we recognize it or not.
All of this reminds me of my flight from Los Angeles to Toronto a few years ago. I was seated beside the actor and writer, Eugene Levy. Minutes after takeoff, Eugene removed a sheaf of papers from his bag and got to work. I was curious, a bit awe-struck, and tried to keep a close eye on what he was doing without asking. For the better part of five hours he worked his way through a dozen or so yellow legal pages, what appeared to be a TV script (Schitt's Creek?). He was meticulous in his work: swapping words and adding new ones, making notes, deleting a few things. All in neat, precise handwriting.
Somewhere over Kansas or Iowa, it dawned on me that Eugene was savouring this script, coddling it, like it was his baby. Because it was. I can still see it now: me sneaking a peek from behind the pages of my Wall Street Journal; Eugene working calmly, nurturing his best friend, pen in hand.
A true craftsman.
So ask yourself:
Are you sharpening your edges?
Are you honing your own craft?
~Craig