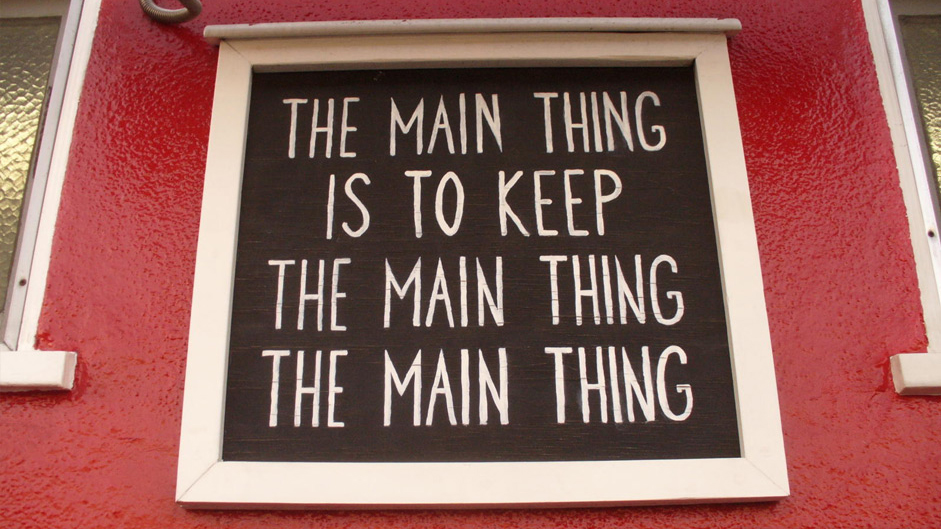 01.15.16
We're two weeks into 2016, and already my New Year's resolution to quit Oreos is pretty much kaput.
That's just the way the cookie crumbles.  
If you're like me, many of your own resolutions will fall away before too long.
When it comes to business, however, I see only one resolution that we need to pay keen attention to – all year long. When we do, all of our other concerns take care of themselves.
To borrow one of Stephen Covey's best lines:
"The main thing is to keep
the Main Thing the Main Thing."
 Jim Stengel, former CMO of Proctor & Gamble (and overseer of 23 different billion-dollar brands) calls it the brand ideal. 
Leadership guru Simon Sinek calls it our WHY in one of the most viewed TED talks ever.
Both are actually referring to the same main thing.
It's Purpose. 
The need for brands to clearly make a bold statement about why they exist and how they make a meaningful difference – their purpose – has never been more important. Consumers today want authentic brands they trust, especially in a world of message clutter. Amidst all the noise, brands without a compelling purpose risk becoming irrelevant. 
As Sinek implores us, "People don't buy what you do or how. They buy WHY you do it."
Dove

 re-energized its brand by defining its purpose as helping women of all ages to feel better about themselves and increase their self-esteem.  
Blake Mycoskie's 

TOMS

 has a single focus: to give shoes, sight, water, safe birth and bullying prevention services to people in need.
Creaghan McConnell Group

 sticks to its own purpose: to help Canada's exceptional business families endure for generations to come. 
Whether yours is a big brand… a non-profit… or a smaller, entrepreneurial enterprise, purpose can be a difference-maker.
But there are two important parameters to keep in mind:
Purpose is never about us. It's not about being the biggest… or the best… or achieving our annual plan… or "delivering greater returns to our shareholders." These are positive outcomes from a purpose that resonates. They are not the meaningful difference that draws customers to us in the first place.

Purpose is always about who we serve – our customers, our audience, our cause.  Purpose is always about them, not us.  Dove serves women. TOMS serves people in need. CMG serves business families. With this in mind, the most compelling purposes typically address one of three golden opportunities: (1) to make something better (2) to improve a life (3) or to right a wrong. 
How does your purpose fit into this conversation? 
This year the only resolution to really pay attention to is: 
To stay true to our purpose, whatever it is, and align all that we do in support of it. (How does our latest hire support our purpose? Does our marketing line up properly? Will that technology upgrade align with the difference we're trying to make? You get the picture.) In essence: to keep The Main Thing the main thing.


Or, if we don't have a clear purpose… to create one.
When we do, good things follow.
Stengel's groundbreaking research proves that brands with a clearly defined purpose significantly out-perform those without. Period.
Purpose isn't something we discover.
It's something we create. 
Purpose isn't something we pull out of our brands.
It's what we passionately build into them.
Our real purpose this (and every) year is to have one. 
And that's The Main Thing.
So ask yourself:
How does your brand improve a life, right a wrong, or make something better?

Are you sharing your purpose in an easy-to-understand way?

Are you keeping your main thing… The Main Thing?
~ Craig