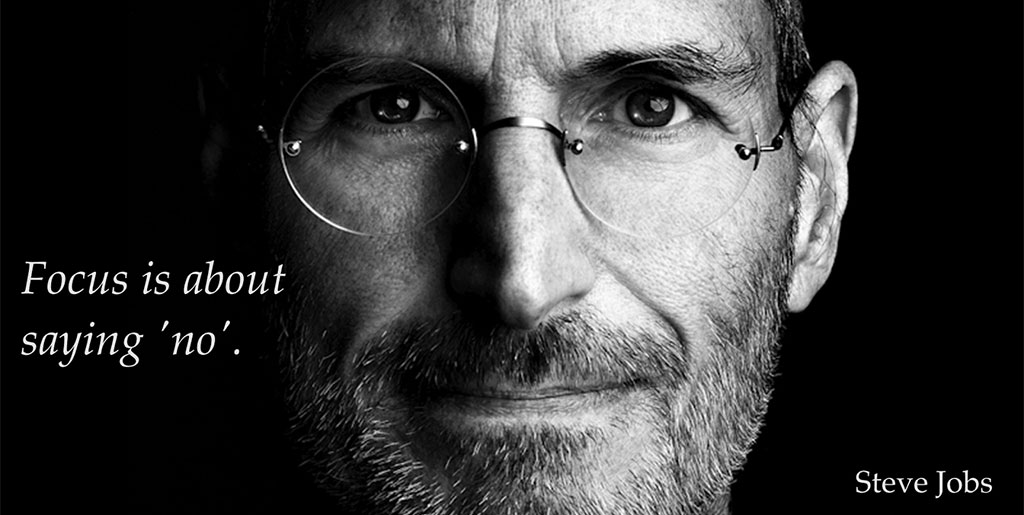 11.13.15
The fourth anniversary of Steve Jobs' death passed a few weeks ago.
With it came a flurry of media coverage spotlighting all sides of the Jobs we remember – the creative genius, the master innovator, even the (apparently) prickly and over-demanding leader.
But it was one slant, in particular, that caught my attention.
It's widely known that the Apple co-founder had a special relationship with design chief Jonathan Ive – the guy who made all of Jobs' product visions come to life. I think we all knew this. But I was surprised to read that Jobs would stop by the design studio nearly every day to ask Ive the same question:
"How many times have you said no today?"
For Jobs, the more no's the better. To have extreme, laser-like focus, he was always rejecting opportunities. Even the great ones. Even if they moved Apple forward.
Doing so enabled Jobs to string together home run after home run on the retail shelf: iMac, iPod, iPhone, iTunes, iPad.
One after the other.
Consistently.
How often do you say no?
Saying no is especially relevant at this time of year, when many of us are planning for 2016 and beyond. Some call this strategic planning.
To me, strategy has always been about choices – picking the things we greenlight and say yes to, and those to which we (just as importantly) say, "No, we're not going to do that." 
These are the decisions we make for our brands and businesses.
Except it doesn't usually play out in an orderly way.
Let's walk it through: 
The where. You have a vivid picture of what your next three to five years will look like. This is a vision. Ideally, it's clear and measurable (i.e. you'll know with certainty when you get there). If you're building a house, it's the dream of what it looks like at the end.
The how. You've identified the critical initiatives (typically no more than five) that define your over-arching strategy. These are the "planks to success" that enable you to achieve your vision. In the house, these are your foundation and framing. They're essential.
The what. Finally, you have a finite amount of resources at your disposal. So you line up people, technology (and dollars) with specific tactics emerging from your key initiatives. This is a plan, updated annually and accompanied by a budget. It includes the plumbing, wiring, painting, artwork and furniture. These things come with a price, like any plan.  
All good.  
Except. 
Except there are always a number of "other cool opportunities" you could pursue in addition to your short list. These ideas creep into the conversation. They entice and distract you. (A swimming pool. A restored attic. A workshop at the back of the property.)
And this is where things get hairy.
Our resources are already strapped. Adding initiatives to our plan beyond normal surges is self-defeating in the long run because we dilute our efforts, run our teams into the ground, and lose our focus. Having 10 key initiatives is much more complex than three or four. 
Sure, we finish the house. But it's not quite what we thought it would be. Or it took longer to build. Or we spent more time, energy and dollars than we projected. 
So, is saying "no" selfish?
The opposite, actually.
"No" is the language we use to be protective and nurturing: 
… of our focus.

… of our team's productivity.

… of our likelihood of success.

… of our brand's sustainability and consistency.
If you're Steve Jobs, you don't get millions of consumers to say "yes" to a short list of Apple products without saying "no" to a long list of juicy opportunities along the way.
Good strategy and execution are about making smart choices and decisions.
And it often means saying "no."
So ask yourself:
How many times will you say no today?

Will it be enough?
~Craig