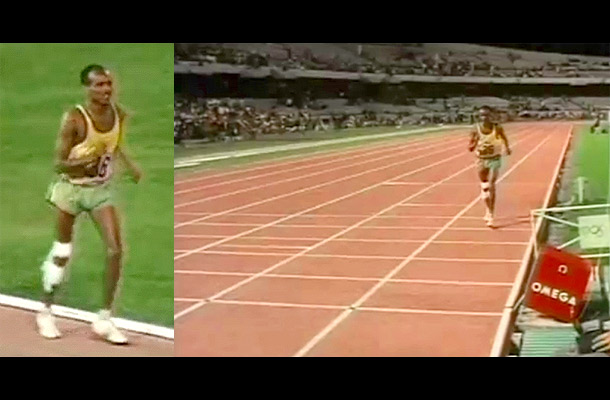 09.08.17
Out of the cold darkness he came.
John Stephen Akhwari of Tanzania entered the far end of the stadium, pain hobbling his every step, his leg bloody and bandaged.
The winner of the marathon at the 1968 Summer Olympics in Mexico City had been declared more than an hour earlier. Only a few spectators remained in the stadium.
But the lone runner pressed on.
Earlier, Akhwari had cramped up due to the high altitude of the city. He hadn't trained in these conditions back home. Then, halfway through the 42km race, Akhwari lost his balance while jockeying for position with other runners. He fell badly, dislocating and scraping his knee, and hurting his shoulder. But he slowly regained his feet and kept running.
Actually, it was more an awkward mix of walking and limping. This went on for nearly two hours, a solitary figure on the darkened course as the other runners finished far ahead of him in daylight.
Hearing what had happened, an international television crew rushed from the gold medal ceremony to capture Akhwari's agonizing finish. You can see the race footage here.
As he crossed the finish line, the tiny crowd roared its appreciation. Afterward, a TV reporter asked Akhwari why he hadn't retired from the race, since he had no possibility of winning.
Akhwari seemed confused by the question.
Finally, he answered: "My country did not send me 5,000 miles to Mexico City to start the race. They sent me 5,000 miles to finish the race."
What about us?  How will we finish?
While summer may be (unofficially) over, one-third of our year is still ahead of us.
These next few months can be the toughest part of our own race.
Like Akhwari, we may have cramped up over the past few weeks. We may have stumbled on some of our plans for the year.  We might have encountered unexpected circumstances that set us back.
Or… maybe we're running smoothly.
Regardless, all of us have likely started plenty of things this year.  Now is the time to keep moving forward, and end strong. No matter what we're working on.
Hitting our sales targets.
Recruiting that next hire for our team.
Nurturing our culture to keep our brand strong from within.
Knocking off components of our marketing plan.
Upgrading our technology platform.
Plotting the next evolution of our strategy.
Because it's not about starting.
It's about finishing.
So, ask yourself:
Where are you in your own progress for 2017?
What can you still accomplish in the next four months?
How will you ensure you finish strong?
~Craig