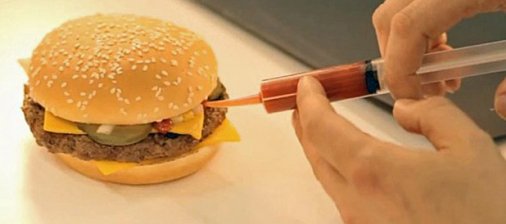 05.05.17
There's a scene in the 1993 movie Falling Down in which an angry, just-fired, over-the-edge Michael Douglas loses it at a fast food restaurant.
What makes him snap?  Being served a flattened, unappetizing burger that doesn't come close to matching the plump, juicy one advertised at the counter (or like the one being prepped for photography above).
"Doesn't anyone see what's wrong with this picture?" he screams, looking around the restaurant.
In a nutshell, it's a promise made… and broken.
This predicament plays out every day with brands in all categories – from those oversold flights on United to PwC's unfortunate role in the wrong film being announced as best picture at the Oscars.  A promise to do something – to fly us as scheduled; to handle Hollywood's biggest moment smoothly and reliably – isn't kept. It's broken.
Keeping our promises – to our customers, donors, influencers, students, whoever we serve – ought to be tablestakes for all of us.
It's what we say we'll do.
It's what we're supposed to do.
It's expected.
So, when it doesn't happen, the damage is immediate.
Bad news travels fast. The average consumer tells 16 people if the problem is bad enough. Just look at what United and PwC dealt with in the aftermath of their own broken promises. Ugly.
The upside? Good news travels too.  
If we somehow deliver more than expected – or do it in way that leaves a memorable impression – good things happen. On average, we'll tell nine people about a positive experience, according to research by customer experience experts thinkJar.
For example:
We sold our home last month (and bought a new one) … all in a two-week span. Moving is stressful at the best of times, and even more so in southern Ontario's over-caffeinated real estate market. But the process was made easier by our agents, Jesse & Leah Robinson.
They did what we expected: advised us on minor renovations to attract the right buyers for our current home, marketed and priced it properly for sale, coached us through the negotiations with the eventual buyers, and helped us find our next home.
That's what we hired them to do. If they had failed in any of these things we would have been disappointed. Jesse and Leah kept all of their promises.
It's what we didn't expect that made all the difference.
One of the conditions of sale was an inspection of our septic system. The buyers wanted to be sure all was okay. During the inspection, the lid on the septic tank cracked. After 20 years, the lid needed to be replaced and the top of the septic tank reconstructed. It wasn't a huge job, but it was tricky, and required a few hours of both labour and coordination.
All of this was our responsibility as the owners, but Jesse and Leah stepped in (without us asking) and handled the whole thing on our behalf: hiring the supplier, coordinating the work to be done, with Jesse even doing much of the work himself.  More than once I found him in our backyard, low key and unannounced, working on the project solo. (The work was complicated by the septic tank resting below our flagstone patio. This meant several heavy stones needed to be removed and replaced. It's surprising how much work is necessary to properly level patio stones once they're removed!)
Does this sound like the sort of work your average real estate agent would do?
Not to me.
Tablestakes are the cost of entry in our business. At a minimum, we're expected to fulfill our promises. Like brushing our teeth, we do this all the time… and it becomes a habit.
But what can we do to go beyond – to keep our promises, but do even more, like Jesse and Leah did for us? That's where the magic happens.
Does this put some pressure on us to perform every day?
Of course.  As it should.
So ask yourself:
Are you keeping your promises?
How are you going beyond?
~Craig