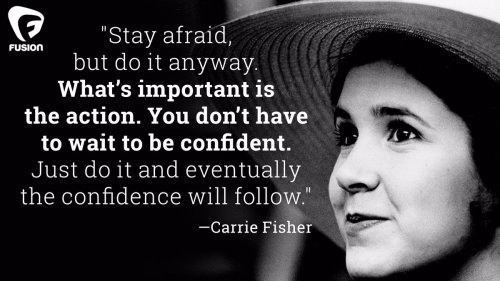 02.03.17
Our eldest daughter, Julia, is in her final year of high school and now applying to colleges for next Fall.
Even typing those words is a shock to my system. It seems like just yesterday that we took her to see The Wiggles in concert.  (Don't ask.)
The whole college process has prompted questions for Julia.
Am I ready for this?
What do I want to do with my life?
Am I choosing the right program?
Is this the college for me?
What if I make the wrong decision?
It's why the bright light shining on one of Carrie Fisher's most famous quotes, in the aftermath of her sudden death a few weeks ago, is both timely and helpful.
"Stay afraid, but do it anyway."
Carrie learned courageously through her many life challenges to embrace the Nike mantra and just do it. 
The rest takes care of itself.
The confidence comes from doing.
The doing breeds more confidence and further success.
So what's the worst that happens to Jules?
She picks the wrong program or college and tries again.
She gets comfortable with acting and doing, even in the face of her fears.
This plays out in business too, doesn't it?
Will the new digital marketing campaign work?
What if that potential new client says no to our meeting?
Are we hiring the right person?
What if the new product flops?
Does this strategic move make sense?
Seth Godin talks about the 'resistance' we encounter in our own heads:
"The fear is hardwired into us, for good reason. The thing is, we're just mistaken. You had a reason to be afraid during the Spanish Inquisition. You have a reason to be afraid if a baseball bat is flying into the stands."
But when it comes to taking creative risks and stepping out of our comfort zone, we don't have that much to lose. It's not life or death.  It just isn't.
As we head into Super Bowl weekend, who would have thought that New England hiring Bill Belichick was considered a dumb idea by most NFL people 17 years ago?
Patriots owner Robert Kraft admits now that he was scared bleep-less in hiring Belichick.
Many "experts" even tried to talk him out of it.
He did it anyway.  And now look at the Patriots.
The act of reminding ourselves that we don't have all the answers, that conditions are never perfect – that failure is a real possibility – is vital in moving us forward.
It helps us act.
It gets stuff done.
It builds our confidence.
As Carrie said: "What's important is the action. You don't have to wait to be confident. Just do it, and eventually the confidence will follow."
So ask yourself:
Are you waiting to be confident?
Or are you staying afraid… but doing it anyway?
~Craig